1/3 the weight of a comparable metal clamp!
Gemini Carbon Fiber Clamps are specifically designed to replace the heavy steel clamps traditionally used by luthiers in the creation and repair of stringed instruments. Often when assembling violin or cello bodies, for example, multiple clamps are used to maintain even pressure across the bonding surfaces. Unfortunately, standard steel clamps can put a great deal of weight load on the parts. Lightweight plastic clamps are available; however, they are weak and often unable to provide the necessary clamping force.
In contrast, Gemini carbon fiber clamps provide substantial clamping force, yet weigh less than one third of a comparable steel clamp. For the luthier or fine wood-worker, this design provides the stiffness of metal at the weight of plastic. Clamps also provide an adjustable lower pad to allow more precise positioning. Available in depths of 3", 5" and 8" with a height of 1 5/8".
3" Depth (Violins/Violas)
$57.50 USD

---

5" Depth (Cellos)
$67.00 USD

---

8" Depth (Basses)
$75.25 USD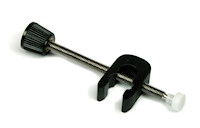 As an add-on to our carbon fiber clamp, the vertical clamp support is able to slide along the clamp arms, and by tightening the pad against the piece, provides support for the clamp. This clamp support prohibits the clamp from sagging under its own weight, a common problem with longer clamps.
$6 USD


TO ORDER CALL 315-252-2559