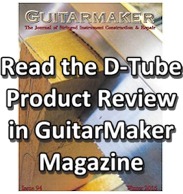 Lightens & Stiffens Guitar Neck While Improving Instrument Tone!
The Gemini Carbon Fiber D-Tube Neck Beam™ has been specifically designed to stabilize instrument necks due to its unique D-Tube structure. The Carbon Fiber D-Tube Neck Beam replaces the truss rod, significantly increasing both bending and torsional stiffness and weighs less than the removed wood! According to experienced builders and regular customers, the D-Tube Neck Beam also enhances tonal qualities of the instrument by opening up the mid-range.
The D-Tube Neck Beam is available in 3/4" in both straight and tapered versions and 1/2" straight to fit virtually all necks. The 3/4" tapered version is designed to be used on thin necks while the 1/2" straight is designed for smaller necks such as a mandolin.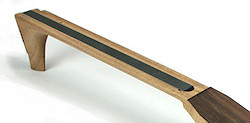 Installation is quick and easy. Simply cut a groove in the neck using a 3/4" or 1/2" core box router bit and bond the beam into the neck. The straight beams require a groove of constant depth.
For the tapered beam the groove is cut shallower at the head. The reduced depth of the beam near the head makes it ideal for thin necks.
The D-Tube neck beam replaces the typical approach of truss rod and carbon fiber reinforcement beams with a one piece insert. Cutting the groove for the d-tube is a much simpler operation and requires less labor than fitting a truss rod and carbon fiber reinforcement strips.

New D-tube Neck Beams and research about the product will be released soon. For more information on how to become part of the D-tube community, contact us.
The Ultimate in Guitar Neck Bracing!